Home
Home
Home
Home
Home
Home
Home
Home
Home
Home
Home
Home
Home
Home
Home
Home
Home
Home
Home
Home
Home
Home
Home
Home
Home
Home
Home
Home
Home
Home
Home
Home
Home
Home
Home
Home
Home
Home
Home
Home







Updated April 12th



Chloroquine and Hydroxychloroquine Treatments





Pr. Didier Raoult

Professor Didier Raoult has become a celebrity, a hero. As a world renowned infectious disease expert, he heads a research institute in Marseille, France. Following the encouraging results of Chinese doctors and their trials, he took the initiative to treat patients suffering from Covid-19 with Hydroxychloroquine plus an antibiotic, Azythromycin. Since then, he has treated more than 1000 patients who have been quickly cleared of their viruses. The success of this treatment has snowballed. After many obstacles and sticks in the wheels, it was officially accepted in French hospitals (but only for dying patients when it does not work any more ...). Many countries like Morocco, Belgium, Vietnam, USA, China, India, South-Korea, Benin, Algeria, Burkina Faso, etc. are now using it.

His site with his explanations:

https://www.youtube.com/user/ifr48/videos

The benefits are many: Chloroquine is a well-known anti-malaria drug with few side effects and used for more than 60 years. It is easy to produce, inexpensive and efficient. A billion people have already consumed it. The associated antibiotic, Azythromycin, is also widely used and inexpensive.

This internationally recognized expert recommends large-scale tests followed by isolation and treatment of patients and relatives only. Just like dr. Zelenko, he would like all doctors to be able to prescribe these drugs at the first symptoms of people at risk, even before the tests because this is where they are most effective. In France and in Canada, allowing their use only for severe cases is neither logical nor effective. In fact it is criminal.

Out of 1000 patients treated, only 5 old patients died. The rest has recovered. Marseille, one of the biggest and most affected city in France has the lowest death rate. Below is the result for the first group.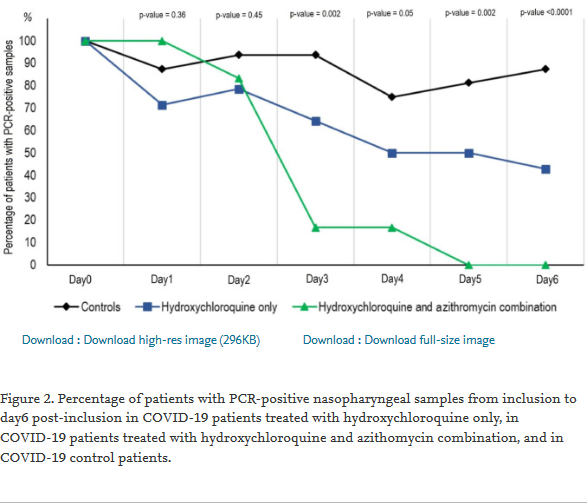 Dr. Vladimir Zelenko

In Orange county near New York hard hit by Coronavirus, dr. Zelenko has put into practice the recommendations of Pr. Raoult adding zinc like the South Koreans did. Out of hundreds of patients treated, only four had to go to hospital. None were intubated. None died. Here is his typical prescription:

1- Hydroxychloroquine 200mg twice a day for 5 days
2- Azithromycin 500mg once a day for 5 days
3- Zinc sulfate 220mg once a day for 5 days


A treatment for a patient over 5 days costs ...... US $ 20.

His Youtube site

https://www.youtube.com/channel/UCZMIBG1kIYUnlSZJ_ev1p3g/videos

An excellent video in English of the doctor in interview with Rudi Giuliani former mayor of New York where he explains the details of his treatment.

https://www.youtube.com/watch?v=1TJdjhd_XG8

He and many others say that we are all going to get the virus and that it is good to develop antibodies. Only people with health problems are really at risk. He clearly said to everyone: "Avoid going to hospitals!"




Now we have a simple, inexpensive and effective treatment.




Now we have a simple, inexpensive and effective treatment.


The production of Chloroquine in Canada should go full speed, just in case ...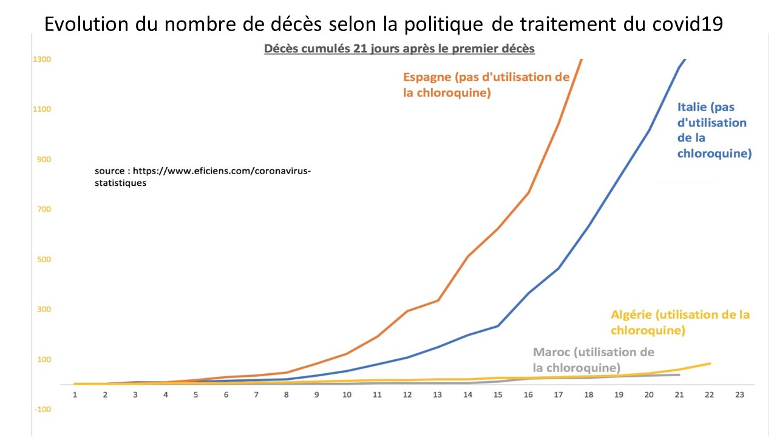 Click to enlarge

In the graph comparing 4 countries starting at the first death from covid-19, we can see on the left Italy and Spain that did not use Chloroquine and Morocco and Algeria at the bottom that used it from the beginning. These two last ones had very few deaths and the two first ones are now using Chloroquine.



Other treatments

Some doctors in France and Belgium are testing with success the protocol of dr. Zelenko without chloroquine that is forbidden by the government.

Vitamin C

Apivirine an african drug from Benin.





Numbers

The figures are not currently very reliable because many people are not tested and heal naturally. This explains the apparent high mortality. On the other hand, most of the dead are elderly people who already had several problems. Remember that in the US alone there are between 18,000 and 80,000 deaths from the flu each year. One of the English experts who predicted according to his model 500,000 deaths in England has corrected the situation and is now talking about 20,000 dead, 25 times less. Just a detail.

As the numbers get clearer, when you eliminate deaths from other factors, we find that although highly contagious, the virus has a similar death rate as the flu.


South Korea

Are Koreans smarter than us? In any case, they have practically stopped the epidemic in their country while losing very few people.

They have not quarantined their population.
They did numerous tests and isolated and treated the patients with Chloroquine and zinc.
They systematically disinfected public places and public transport.

A short 3 minute video in French.

https://www.youtube.com/watch?v=8-6E_Nhvo8I


Singapore, Germany and Japan

Likewise these two countries have brought the disease under control. I do not yet have details on their procedures. One certainty: no systematic quarantine.


Sweden

No containment few deaths and little spread.

https://www.youtube.com/watch?v=bYxbLglBNeE


China

China has brought the epidemic under control thanks to drastic measures and tests of a hundred molecules on patients. In addition, they use traditional remedies and plasma transfusions for severe cases. Much contradictory information circulates. Their clinical trials in patients with the virus have confirmed the effectiveness of chloroquine. They are now using Chloroquine routinely. None of the nurses and doctors in Wuhan got the virus.
Their systematic clinical trials have shown that the very expensive anti-virals used against AIDS are not at all effective and cause many side effects.
They are now helping other countries like Italy and Venezuela. After two months they stopped the confinement in Wuhan.


France

I am ashamed for the French government. Not only did he took a long time to react and did not want to close his borders, he also blocked systematically the only known effective treatment. As usual, very talented people in France are attacked. Fortunately, this time thanks to the internet, the world was able to learn from the successes of the team of Pr. Raoult arousing much interest. The day he opened his new Twitter account, he had immediately 85,000 contacts. Finally someone who dares to stand up and puts his patients first.

In France, the stocks of masks and Chloroquine have disappeared. The government has even banned doctors from prescribing it.
It is only by seeing the anger of the citizens, the legal complaints of the doctors and the popularity of Pr. Raoult that the government has agreed to use Chloroquine in hospitals for severe cases for which it is too late.

Already 600 doctors are suing the government for its inaction. We have the impression that the government is doing everything to worsen the problem.


USA

Against the advice of infectious disease specialists from the White House, President Trump forced the FDA to advocate the use of Chloroquine to treat Americans. Lucky ones!

Congratulations to President Trump!

Pharmaceutical companies donated 31 million doses of chloroquine.

They already did more than 1 million tests.

Brazil

President Bolsano tries not to spread panic and to reassure the population. Facebook and Twitter decided to delete messages from the president because they judged that it was misinformation. Isn't it strange that these media giants decide what is "good" and what is not for a president?

Is it because the president does not want to believe in the fable of the nasty CO2 that the internet giants censor him?

Canada

New Brunswick is the first province that officially use Chloroquine to cure patients. In the capital area hospitals are also using that drug.




General containment:

The only country that I know of that seems to have had success with their extreme quarantine is China, which tried numerous treatments and tests. Italy, Spain, France, which apply quarantine, have many deaths.

According to dr. Raoult, expert in contagious diseases, general confinement is a method of the Middle Ages. When you keep together one infected person with relatives, the risks of contagion are very high. It is what is happening in retreat centers for old people. Because they are at risk, they should be tested first and the infected ones should be confined and treated.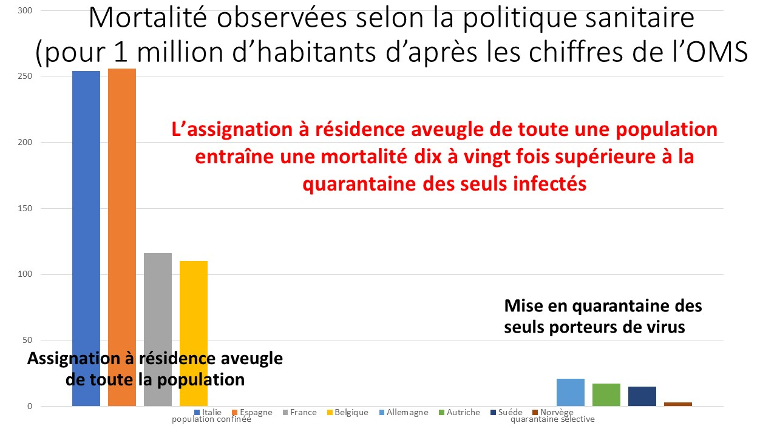 In addition, the confinement of the population will cost fortunes.

In this article a dozen experts question the quarantine and the dangerousness of the virus.

https://www.zerohedge.com/geopolitical/12-experts-question-covid-19-panic

General confinement is a bad idea.
General confinement is a bad idea.

Sweden chose not to confine every body but to ask people to use their common sense and stay at home and get tested if they have some symptoms.


Tests and treatments:

We could draw inspiration from what works in South Korea for example: testing, treating, isolating patients and their relatives only and disinfecting.

Chloroquine treatments seem extremely promising especially those of dr. Vladimir Zelenko. The cost for a treatment for a patient over 5 days is ...... 20 US dollars. A billion divided by $ 20 gives us 50 million treatments. Rather than sinking the economy, we could easily treat everyone at risk in Canada.


Spread and danger

With more precise figures, we realize that covid-19 is much more contagious than many other microorganisms. So it is very likely that sooner or later each of us will catch it. This will allow us to develop antibodies. As we now have treatment, there should not be many deaths.

The figures also show us that with the right drugs, this virus is no more dangerous than those of the flu. As the flu, coronavirus outbreaks tend to disappear with summer temperature.





The Covid-19 a biological weapon?

DNA analysis of Covid-19 has shown that it is most likely a biological weapon escaped from a laboratory. We now understand why this virus is so contagious. A legal battle is starting between the USA and China, each accusing the other of having manufactured and released this virus. But who really spread it? It is not the first time this has happened. Researchers were able to determine, for example, that HIV had also been produced in a laboratory in the United States and different strands deliberately inoculated with vaccines in several places. The targets were black and gay people.
Similarly, few months ago, senators asked the U.S. government if it had `` tinkered '' with ticks to create Lyme disease.

According to Simon Parkes on March 30, this weapon was aimed at the USA. The virus was to have two parts, one developed by the Wuhan laboratory was to make the virus very contagious. The other part developed elsewhere was to make it very dangerous. The virus was allegedly accidentally escaped before it was finished.


WHO and its very strange director

Doctor Tedros Adhanom, who heads the World Health Organization, is a criminal responsible for the deaths of many in Ethiopia, his country of origin. Under the following video in English which explains it, you will find many references proving it. We can therefore ask questions about the decisions and intentions of this person as well as WHO. Do they really want to help us?

https://www.youtube.com/watch?v=9uWriZEC8BQ


ID2020 and vaccines

It seems that Bill Gates and his team are working very hard to develop vaccines with nanoparticles that would contain all our personal data and a bar code to track us. It is called ID2020. Would an alleged pandemic be a good opportunity to promote these vaccines? Could someone have caused this pandemic in order to vaccinate the population? Well, only conspirationists could believe that!

https://www.globalresearch.ca/coronavirus-causes-effects-real-danger-agenda-id2020/5706153

In the next video at around minute 15, Bill Gates suggests that people who are not Covid-19 survivors and who are not vaccinated should be banned from traveling. In other words, he wants to make vaccination compulsory and control people.

https://www.youtube.com/watch?v=D5oQp-GVMJU&feature=youtu.be



"Dirty" money versus digital money

In the previous article you will also find references to the elimination of paper money to make room for everything digital. It is one of the major projects of international banks to fully control the population. What an opportunity having a virus to scare the world and make them believe that money is "contaminated".
Personally, I find it very convenient to pay electronically online. But in the near-by stores I systematically pay cash.


Economic crisis and Federal Reserve

In January the USA could not pay their debts so now they are technically bankrupt. In addition there is a huge economic crisis affecting the stock markets and the banks. The advantage of this pandemic is that the population does not realize it and that it did not go to the banks to claim its savings, which would have caused big trouble. But despite this crisis, the USA has found trillions of dollars to give to the population. By what miracle? A long-awaited miracle: the US government has regained control of the Federal Reserve, the Fed it lost a century ago. In other words, the government got the money printing press back, which is very good news for us and very bad news for the banks because it could inspire other countries to regain control of their central bank. To be continued ...


Military exercises

Before and during September 11, there were simulations and military exercises. Likewise recently, we have seen several films on the subject of the pandemic as psychological preparation and currently large military exercises are happening in Europe and in the USA.

It is rumored that operations against the Black hats, those who pull the strings of power in the shadows, the 1%, are underway. According to https://benjaminfulford.net/ a well informed Canadian journalist living in Japan, many high profile personalities have been arrested around the world and several Dumbs, deep underground military bases have been destroyed or cleaned. In one of them 30 000 children have been found and rescued.

To be continued...


New world order

The Pope has announced that he will officially launch the New World Order NWO in May. Several presidents had spoken of it, including Sarkosy and Bush. The motto of this group is - Ordo ab chaos - Order is born of chaos. Their strategy is to cause disasters so that the people themselves demand change. When we look at what is happening now where rights are suspended, the media spread panic and where states become authoritarian overnight against an invisible enemy, we can appreciate the intelligence of the strategists of this group.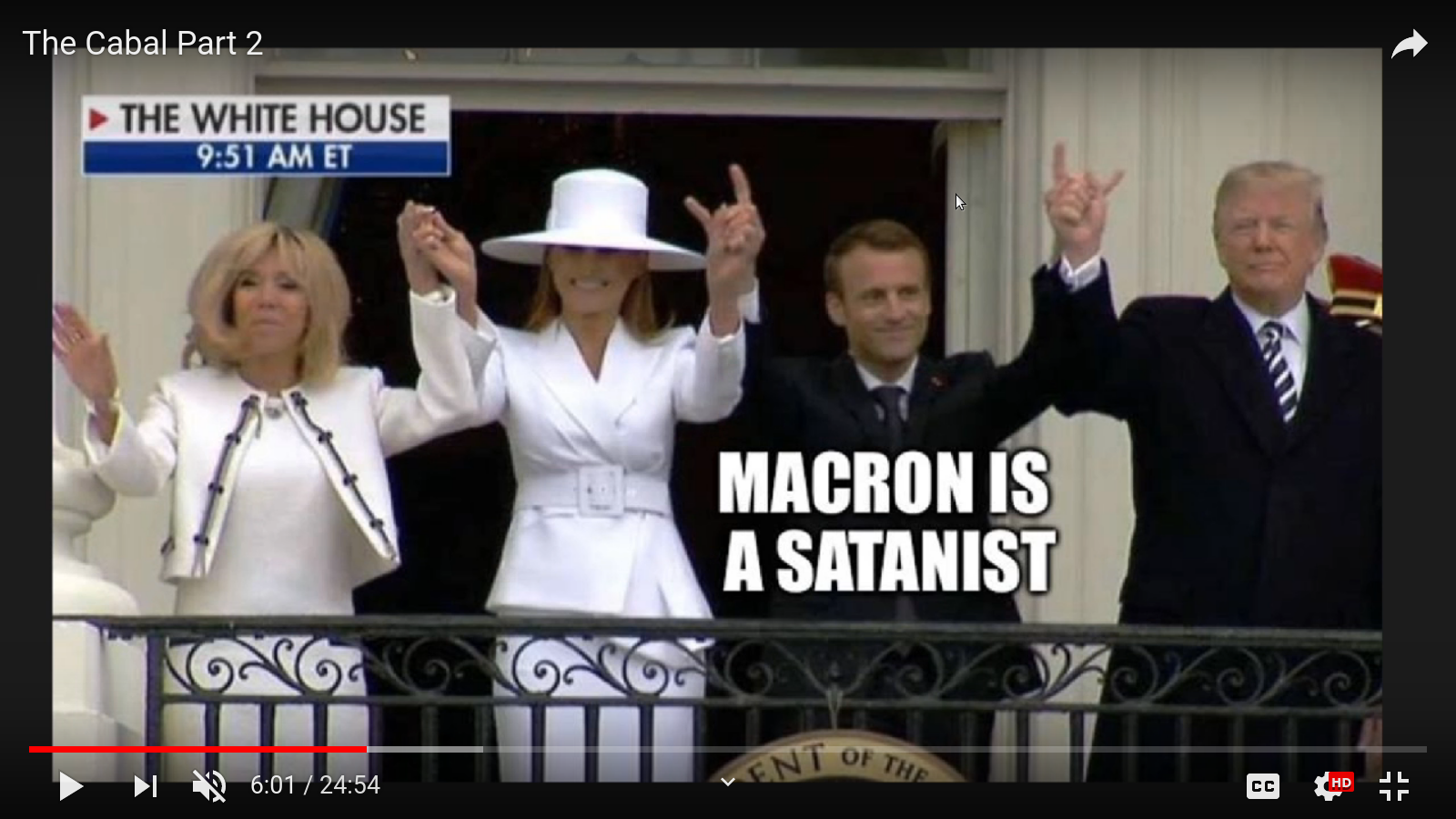 Their members are known under different names: the 1%, big corporations, black nobility, black hats, illuminatis, banksters, Nazis, Zionists, shadow government, deep state, etc.

Their members are often linked to satanist practices. We can see on many photos celebrities and politicians making characteristic signs of recognition. We see in the attached photo that Macron is the only one in the group to make these curious signs in the shape of horns.



As we have just seen, this alleged pandemic is far from being innocent and accidental. Huge forces play behind the scenes. There is indeed a war but it is not really against a virus but between the small minority that controls our world and us. Fortunately, everywhere in society people of good will work for the love of humanity.

During my military service in France I had time to practice chess. It's very good for logic and strategy. We learn to calculate and not leave anything to chance. Several shots are always planned in advance. And we also learn that it is sometimes necessary to make sacrifices to arrive at the final MAT. Here, even if it breaks their hearts, I am sure that the NWO is ready to sacrifice the poor people, as in every war, to keep their privileges.

Some say that Macron does not know what he wants but I think on the contrary that he is very intelligent and continues to follow his strategy of maximum chaos. As a Rothschild it is urgent to act before, thanks to the internet, the people wake up completely from slavery. Indeed, people are beginning to ask themselves questions such as: Why does 1% of the population control 90% of wealth? How did we get there?

When we see the problems and the expenses in China and in the USA caused by the coronavirus, I doubt that the leaders of these countries are the criminals who released this virus. It is possible that individuals in these countries have done so. On the other hand, this violation of rights, this imprisonment of the population, these aggressive laws, digital money, the destruction of the economy, the fear generated by the media and the possibility of a vaccine point to a culprit: the New world order controlling the narrative through the media.

The Crown of England (the Crone) is very involved in this NWO. Very curiously the coronavirus means crown virus.

In the following video in English, David Icke describes well the process of taking control of the population under the pretext of an invisible enemy to transform society.

https://www.youtube.com/watch?v=gMTZu6_TjU8





These days we no longer hear about 5G. It disappeared behind a smoke screen. However, in my opinion, 5G is much more dangerous than coronavirus. This technology has the potential to destroy everything that lives on this earth. The multiple studies carried out by independent researchers all go in the same direction: a mass extinction for all species, including plants. Who would be crazy and criminal enough for that. Guess who.

The beginning of the epidemic in Wuhan corresponded to the commissioning of thousands of 5G transmitters in the city. Coincidence?

5G weakens our immune system allowing virus and bacteria to grow.

There are rumors that behind all of this technology our computer networks are currently hacked by an artificial intelligence that likes machines but not really beings made of carbon compounds. This AI would use the New World Order to achieve its ends.

In China millions of cell phone subscriptions have been canceled. Some said it meant that all of these people died. But the Chinese are not crazy and they love freedom like everyone else. When they realized that their wonderful phones were used to spy on them, track them down, use them as a pass, etc. and that in addition they had to pay for their chains, could it be that they decided to cancel their subscriptions? Perhaps.



Fortunately, however, there is good news: communications companies are studying 6G ....

Hold your hats, they will levitate. And what's left of us is going to be super cool! Wha! Like in the movie I watched a few days ago where a scientist was irradiated by accident and he became a superman, almost a god. Quite a future.

AI, the artificial intelligence reassures us: "Don't worry, you don't really need a physical body, as pure spirits, you can visit the stars. It will be a cosmic adventure! " ;-)

























Top





















Franç
ais
Top
Top
Top
Top
Top
Top
Top
Top
Top
Top
Top
Top
Top
Top
Top
Top
Top
Top
Top
Top
Top
Top
Top
Top
Top
Top
Top
Top
Top
Top
Top
Top
Top
Top
Top
Top
Top
Top
Top